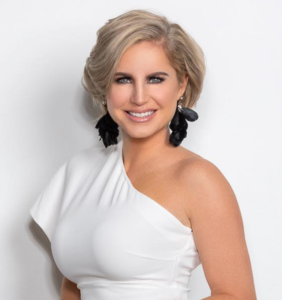 The American Veterans Ball is proud to announce that Ms. Deveney Shea will support our event with her Meet and Greet Queens which consist of the following lineup: USOA Mrs. District of Columbia, Ruth Castro USOA Mrs. Virginia, Lourdes Spurlock USOA Ms. District of Columbia, Amber Zufelt USOA Ms. New York, Olivia Nunn USOA Miss Maryland, Gabby Kerby USOA Teen District of Columbia, Ms. Jaly Castro USOA Mrs. Arlington, Brenda Kay.
Ms. Shea is a Pageant Owner of the United States of America's, Pageant Queen, and a Major in the U.S. Army Reserve. She is the owner of Deveney Media, LLC, which produces the United States of America's Miss District of Columbia, Maryland & Virginia Pageants. In 2019, Deveney decided to enter a beauty pageant for the experience. She first won the state title of Miss Maryland for America 2019. She carried the title of United States of America's Ms. Kansas 2021 and went on to place 2nd Runner Up to the title of United States of America's Ms.
Taking the lead to help shape other women's self-confidence, she became a director for 3 states for the
USOA Pageants. She was recognized for her efforts by being named in the top ten State Directors by Pageant Planet for 2021, in her first year as director. Deveney is also committed to her community through service and philanthropy. She is an advisory board member for Operation Renewed Hope Foundation, Final Salute INC, and other agencies which provide support to veterans experiencing homelessness. However, her passion for animal advocacy has taken the lead in her life to make sure she supports animal-friendly organizations throughout the US.
Deveney makes it a point to give a portion of pageant proceeds to animal-friendly businesses in the DMV area each year on top of her efforts to increase awareness and donation support to animal sanctuaries and rescues nationwide. She has also been a member of the Boy Scouts of America serving as a Den Leader for 5 years and on the committee for her son's troop for the past 3 years.
Deveney currently serves in the Army Reserve as the Public Affairs Officer of the 353d Civil Affairs Command in Staten Island, NY. She will have 20 years of service this summer and has spent time in her career as a Military Police officer, Civil Affairs officer, and Public Affairs officer. She has commanded 3 units both on active duty and reserve with numerous awards including three meritorious service medals.
As the owner of Deveney Media, LLC, she will provide production management, promotions and marketing, media and social media expertise, media/interview coaching and preparation, and graphic design to businesses and entities in the community.
Deveney lives in Alexandria with her son, 2 dogs, and (now) 3 cats.