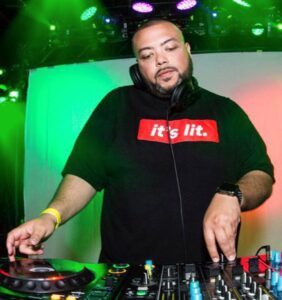 AVB is PROUD to announce the return of our resident DeeJay who will be bringing the NOIZE NINJAZ sounds back to AVB2022 at the MGM National Harbor, MD on this momentous evening. DJ CHUB is a Musical Force to be reckoned with… DJ/Producer/Artist, he does it ALL. 
Chub was born in the Musical Mecca that is BROOKLYN, NY with influences everywhere. From Grandpa's 8-Tracks to the B-Boys breakdancing on the corner to music always blasting on their killer home stereo. But Chub's biggest influence was his Uncle who was a local DJ. As a kid, he was instantly HOOKED as he watched his Uncle blend Rap, Freestyle, House, Salsa, Rock, Pop, Reggae and more. After experiencing that energy a young Chub knew what his destiny held. 
With Chubs Dad being in the Marines, it was time to hit the road. They spent time in Raleigh, North Carolina, Hampton Roads, Virginia and Washington DC where DJ Chub got even more musical influences and began his Professional DJ Career. Starting with house parties, Chub worked his way up to Major DC Clubs like, Platinum, VIP & Red Lounge opening for Top DC Radio Mixers like DJ Alizay & Dj Trini.
With some local success, Chub continued to hone his skills and promote his brand catching the eye of the Legendary DJ CLUE, who recruited Chub for his DJ Reality Show, "WHO'S THE DJ". DJ Chub was a FINALIST on the show. With that exposure came another amazing opportunity… DJ Chub was flown out to Los Angeles to perform at a Major Summer X- Games Event for ESPN, Sean White & That Guy Soda.  
Not satisfied with just playing the music, it was time for DJ Chub to start making his own. With such a variety of musical influences, it's no surprise that Chub the Producer/Artist has NO limits… from Hip-Hop to EDM to POP to Country, no genre is safe. You can find Chub's music as DJ CHUB and under the moniker NOIZE NINJAZ (a production collaboration w/ DJ Tony B) on all major streaming services, download sites and Radio Stations like Pitbull's Globalization on Sirius XM.  
DJ Chub is currently a nationally known musical Artist/DJ who possesses the technical knowledge, experience, and passion that compliments his skill-sets to move any crowd in every occasion. From clubs, festivals, concerts, & celebrity events DJ Chub's music selection, energy and attitude truly defines him as a top pick for your next event.