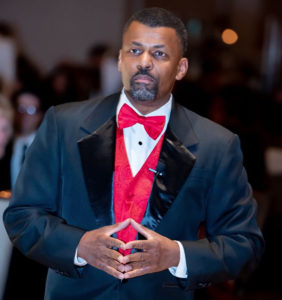 Greetings esteemed committee members, sponsors, and supporters of the American Veterans Ball (AVB). I am deeply honored for the opportunity to serve as your Chair for AVB-2022. My personal goal is to make this year's production as an AWE-INSPIRING EXPERIENCE of a lifetime for each and every one of you. It will be held at the MGM Hotel & Casino National Harbor, MD on Friday, May 20thth, 2022, so be sure to save this date. The AVB was created to provide "ALL" veterans of the "Armed Forces" with the opportunity to participate in an annual service ball similar to our active service components. The most common denominator we discovered, was that once veterans transitioned out of their respective branch of service, there was an immediate disconnection with such type of traditional and customary event of shared comradeship which we've always treasured. Despite of this disconnection, we still live out the values and way of life instilled in us as active leaders in our communities, workplace, and in every good endeavor in our lives.
Our MISSION is to create that pathway to reignite, connect with, and maintain our patriotism with our fellow brothers and sisters veterans through this unique event for years to come.
Our VISION is a Shared PATRIOTIC Investment for veterans that is pure of Heart, ignited by PASSION, Rooted by PURPOSE, and ANCHORED to the Future Leaders of AMERICA: Our YOUTH!
Our GOAL is to CONNECT our Past and Present Military professionals to the Future Leaders of America while keeping them true to the RED, WHITE, & BLUE. (OLD GLORY)
Please join us in celebration in saluting and honoring our past, present, and future veterans. The AVB is open to "ALL" veterans (active, reserves, separated, or retired), their guests, civilian supporting arms, and the general public. We yield your consideration and support by JOINING us in fellowship and the EXPERIENCE of a lifetime.
Madyun Shahid: Gunnery Sergeant, USMC, Retired