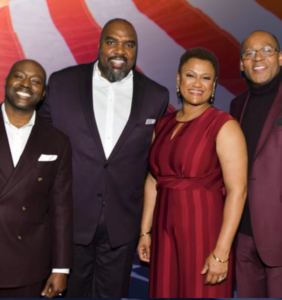 The American Veterans Ball is PROUD to announce that Voices of Service (VOS) will be joining us at AVB2023 on Friday, May 12th, 2023 at the Gaylord National Resort & Convention Center.
A singing quartet featuring retired military Veterans Ron Henry, Christal Rheams, Jason Hanna, and Caleb Green will be releasing their latest single, "Hope" on May 13, 2022. The members of VOS have been singing together since 2012. Their journey and purpose reached a new dimension in 2019 as they achieved a top-5 finish on Season 14 of America's Got Talent. The group influenced global awareness of the struggle of our service members, veterans, their families, and people from all walks of life who've endured visible and invisible scars. Their influence depicts the excellence within military and veteran communities and continues to inspire the universe through music.
As an innovative 501(c)3 non-profit organization, the Center for American Military Music Opportunities (CAMMO) organization elevates and empowers service members, veterans, and military-connected families through music. CAMMO firmly believes that music has healing and therapeutic benefits that allow us to see ourselves in each other. Music is one of the few activities that activates the entire brain. According to accredited research, studies have shown that music can improve mental health, increase memory, and improve mood, and cognitive functioning.
Headquartered in the Washington, DC area, we are committed to the concept of bringing the military community together to share in the love of music, performance, and audio technology, as well as the healing power of music and sound.
​