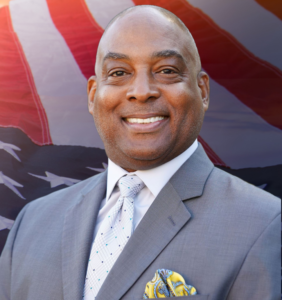 "I'm on a mission from God to get the right people, in the right seat, on the right bus, going in the right direction." -Jarvis Bailey. Jarvis Bailey always believed that he was created for something unique- and it only took him 60 years to figure it out! Once he did, Jarvis began the spirited pursuit of bringing to life his vision to impact lives, add value, and inspire others by helping them find their focus and purpose. Having served in multiple industries, Jarvis is ideally positioned to help people bring clarity and fulfillment to their life.
Born on Virginia's beautiful Eastern Shore, Jarvis began his leadership journey as a high school quarterback. He continued his education at Virginia Tech, Duke, and Old Dominion University. He entered military service as an Army Chaplain and served in the Gulf War. From veteran to healthcare manager, business owner, pastor, non-profit director, educator, and elected official, Jarvis has committed his life to assisting others in discovering and living their unique design.
Having written his first book, "Three Minutes With God: A Weekly Devotional For Inspiration and Encouragement" in 2008, Jarvis is planning to publish his second book in 2024. Currently, Jarvis leads his company, Legacy Coaching, as a Career & Personal Growth Expert, though his favorite title will always be "G-Pop." He's been married to his high school sweetheart for 37 years. Together in historic
Fredericksburg, Virginia, they have three children and one grandchild. Jarvis says his perfect days are Sunday dinner with family and friends or flying a kite on the beach with his granddaughter.